What Is The Downside To Filing Chapter 13?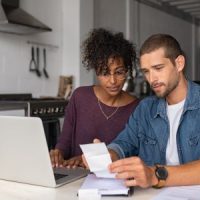 Negative impact on a credit score, which is not as bad as many people think it is, may be the biggest downside to filing Chapter 13 in Illinois. A good credit score, above 700, may drop by as many as 200 points. However, most people who file Chapter 13 do not have good credit scores. A constant barrage of negative information, such as late payments and charge offs, have eroded credit scores. So, a Chapter 13 filing makes a bad credit score slightly worse. That's not an eye-popping difference.
So the negative effects should not prevent families from taking advantage of all the benefits of bankruptcy. These benefits include asset protection and, more importantly, a fresh financial start. A Chicago bankruptcy lawyer maximizes both these key benefits. When debtors partner with attorneys, the generous formal property exemptions are just the beginning. Lawyers can unlock advanced options that protect even more property. Additionally, an attorney helps families make the most of their fresh starts. Frequently, within five years after discharge, most people have forgotten that they filed in the first place.
Qualifying for Chapter 13
Some people believe that Chapter 13's strict qualifications are a big downside to filing. However, almost everyone qualifies, under the formal and informal eligibility requirements.
All Chapter 13 debtors must have less than $2.5 million in secured debts, like home mortgage payments, and $400,000 in unsecured debts, like medical bills. Truthfully, people who have more debt probably need to file Chapter 7 instead of Chapter 13. Generally, if monthly debt payments exceed 10 percent of income, that's more indebtedness than most people can repay.
As for the informal qualification, all Chapter 13 debtors must have enough disposable income to make a monthly debt consolidation payment. The size of this payment depends on the amount of secured claims, mostly secured debt delinquency. However, in most cases, the debt consolidation payment is about the size of a car payment or even a house payment.
A Chicago bankruptcy attorney helps debtors meet this informal requirement, at least on paper, so the trustee (person who manages the bankruptcy case for the judge) does not ask unwanted questions.
Filing the Petition
As soon as debtors file their voluntary petitions, bankruptcy's Automatic Stay usually takes full effect. Section 362 of the Bankruptcy Code prohibits most creditor adverse actions, such as:
Wage garnishment,
Repossession,
Creditor lawsuits,
Foreclosure, and
Creditor harassment.
Usually, the Automatic Stay remains in effect for the duration of the case, which is usually five years. So, families may make income-based payments to erase secured debt delinquency and other allowed claims, such as back taxes.
When debtors file, Illinois' property exemptions also apply. These exemptions protect most of your most important assets, such as home equity and a retirement account, from creditor or trustee seizure.
Debt Discharge
At the end of the protected repayment period, which is either three or five years, the judge discharges all outstanding unsecured debts. This means the judge eliminates the legal obligation to repay a debt. So, families start fresh with no credit card bills or other unsecured debts, and no past due balance on their home mortgages or other secured obligations.
 Connect With a Diligent Cook County Lawyer
No matter what kind of financial problem you are having, bankruptcy could be a way out. For a free consultation with an experienced bankruptcy attorney in Chicago, contact the Bentz Holguin Law Firm, LLC. Virtual, home, and after-hours visits are available.
Source:
credit.com/credit-scores/3-things-bankruptcy-does-to-your-credit-score/