Adam Holguin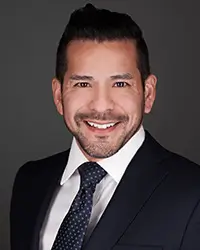 When you or a loved one is in the midst of a legal problem, it is vital to have the best team on your side to watch after your interests. We are committed to helping client's in distress.
With over thirty years of combined experience, the Lawyers at Bentz Holguin Law can litigate or negotiate your case. Adam Holguin works almost exclusively on personal injury and bankruptcy law, debt negotiations, liquidations, and reorganizations of personal and business matters. Adam takes a client-focused approach to law practice by creating a team effort between lawyer and client and maintaining open and consistent communications. This dialogue has allowed Adam to resolve millions of dollars of debt over the past fifteen years.
Unlike larger, impersonal firms, where there may be little or no client contact with the lawyer handling the case, Adam works closely with clients to ensure that they are fully informed and involved so that their best interests and concerns are served. If you suffer a personal injury through no fault of your own, Lawyer Holguin understands the hurdles most clients face in recovering financially and physically. Adam's primary focus is defending mesothelioma victims throughout the United States in conjunction with resolving clients' financial hardships.
Before Bentz Holguin Law Firm, LLC, Adam spent six years at one of Chicago's largest consumer bankruptcy firms. During that time, he filed and handled thousands of Chapter 7 and Chapter 13 petitions. Adam was solely responsible for several of the most prominent court calls in the Northern District of Illinois. He routinely handled a large volume of Confirmation hearings and various Motions to assist clients during the pendency of their cases. During that time, he litigated and negotiated hundreds of Evidentiary hearings and adversary proceedings and fought for his client's rights against the unreasonable demands of their creditors.
Having served as a managing lawyer to one of the largest Bankruptcy Law Firms in the Chicagoland area, Adam gained the experience to address a wide range of client needs. As a result, he has cultivated a strong understanding of the legal options available to assist clients during difficult financial times.
Adam has provided his clients with high legal expertise for the past fifteen years. However, he is best known for the ability to develop result-centered solutions which assist his clients in recovering both financially and physically.
Adam graduated from the University of Tulsa School of Law (J.D., 2006). In addition, he holds a degree in History and Political Science from the University of Indiana-Bloomington (B.A., 2003). After law school, he worked at a large Tax Resolution Company, where he helped hundreds of Individuals and Businesses resolve tax liability matters.
Adam is licensed to practice law in the State of Illinois, the United States Northern District of Illinois, and the United States Northern District of Indiana.
Outside the office, Adam is an avid boxing and running enthusiast and enjoys spending time with his wife, Jessica, and his two sons.