The Gray Bankruptcy Phenomenon In Illinois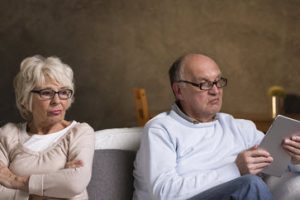 Overall, the number of bankruptcy filings has declined dramatically since 2005. That was the year bankers convinced lawmakers to tighten the bankruptcy rules.
But among debtors over 65, the filing rate has tripled since 1991. Here in Illinois, older people usually have substantially more assets than younger filers. So, these bankruptcies require a different approach.
Why Older People File Bankruptcy
Most people over 65 file Chapter 7 bankruptcy. Past-due secured debts, like home mortgage payments, are usually not a problem for this age group.
Medical bills, on the other hand, are a different story. Unless the person buys a pricey Medicare supplement, this program usually only covers 80 percent of covered, reasonable medical bills. Because of budget cutbacks, bureaucrats scrutinize these expenses more closely than ever. If the expense is arguably not covered or unreasonable, Medicare may deny payment altogether.
Furthermore, today's retirement-age generation may be the first one without a substantial number of pensions. The aforementioned government budget cuts and a lack of private income security create major problems for many people.
Retirement Accounts and Bankruptcy
Instead of regular pensions, many people over 65 have large IRAs, 401(k)s, or other nest egg accounts. These individuals are understandably concerned that they might lose these precious assets in bankruptcy.
But the Supreme Court recently confirmed that earned retirement accounts are always 100 percent exempt in bankruptcy. Account balance, withdrawal eligibility, usage pattern, and everything else is irrelevant.
Different rules apply for inherited retirement accounts. These assets may not be exempt. The theory is that the account owner sacrificed nothing to obtain the money, so there is no reason to exempt it.
This approach brings up an interesting question with regard to retirement accounts obtained in divorce proceedings. Even if the account owner did not contribute any money to the account, family law usually considers noneconomic and economic contributions on the same level. In plain English, changing diapers is every bit as valuable as making money. No court has ruled on this issue. So, it is a safe bet that the trustee (person who oversees the bankruptcy for the judge) will try to seize divorce-related retirement accounts. So, these people need aggressive representation.
Bankruptcy and Your Illinois Home
By their late 60s or early 70s, many people have lots of equity in their homes. That could be a problem when it comes to the value-based Illinois homestead exemption. Under state law, joint filers may only exempt $30,000 in equity.
Assume the debtor has a $60,000 condominium with $60,000 in equity. At first blush, it appears that the trustee could liquidate the real estate, pay the debtor $30,000, and distribute the rest to creditors.
But not so fast. Generally, debtors must declare an asset's "garage sale value" on Schedule A. Most home investors will pay a maximum fifty cents on the dollar for real property. So, the condominium's as-is cash value is arguably $30,000. Using that value, if the trustee liquidated the condominium, creditors would receive nothing.
In fact, they might receive less than zero. The bankruptcy estate must bear all costs associated with the liquidation. That means making any necessary repairs, marketing the property, paying closing costs, and so on.
With strategies like this, a forward-thinking attorney may be able to save your assets when it seems like all is lost.
Reach Out to Experienced Lawyers
At any age, bankruptcy is not your fault and it is not the end of the world. For a free consultation with an experienced bankruptcy attorney in Chicago, contact the Bentz Holguin Law Firm, LLC. Convenient payment plans are available.
Resource:
wsj.com/articles/bankruptcy-filings-surge-among-older-americans-1533641401