The Color Of Money In Illinois Bankruptcies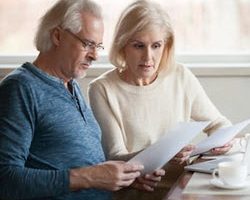 Overall, the bankruptcy filing rate has declined sharply since lawmakers "reformed" the Bankruptcy Code in 2005. But the over-65 age group has bucked this trend. So-called grey bankruptcies have tripled since 1991.
This increase is not surprising. For the most part, employer-provided pensions, generous Social Security benefits, and low healthcare costs are all things of the past. Today's seniors bear most of the costs related to aging. So, even a slight financial storm may be a major financial setback that makes recovery almost impossible.
Most grey bankruptcies involve Chapter 7 cases. Bankruptcy is always a complex financial proceedings, and grey bankruptcies are even more intricate.
Debt Discharge in a Chicago Grey Bankruptcy
Curiously, according to most surveys, seniors are most worried about debt collectors. The Supreme Court recently diluted some protections in the Fair Debt Collection Practices Act. So, debt-buyers and moneylenders are more aggressive than ever. Even if the collection statute of limitations has expired, these collectors keep asking for money.
Chapter 7 discharges credit card debt, medical debt, and even some student loan debt. Once the judge discharges debt, the debtor no longer has a legal obligation to repay it.
Bankruptcy is a powerful weapon against debt collectors. As soon as you form a relationship with a bankruptcy attorney, you only need to tell the debt-buyer five words: "I hired a bankruptcy lawyer." If you want to be nice, you can give the person your attorney's contact information. Or, you can just hang up.
Once the bankruptcy is finalized, you only have to remember three words: "I declared bankruptcy." If moneylenders persist, they face stiff penalties under what's left of the FDCPA.
The debt itself remains behind. So, if you feel a moral repayment obligation, you are free to do so. Moreover, after discharge, some people repay some debts. That could be a medical bill with a doctor that you still want to see. Post-bankruptcy repayment always takes place on your terms, and not on the terms that the moneylender dictates.
Retaining Assets in an Illinois Grey Bankruptcy
Many people over 65 put off bankruptcy filing because they are afraid they will lose their assets. Given Chapter 7's "liquidation" nickname, this misconception is understandable. But it is just a misconception.
The trustee (person who oversees the bankruptcy for the judge) may seize any nonexempt assets to pay debts. But most people do not have nonexempt assets. For example, retirement accounts are 100 percent exempt regardless of their value. The Supreme Court just reaffirmed this exception in 2014's Clark v. Rameker.
Furthermore, an asset's "book value" is not necessarily the same as its bankruptcy value. Under the Bankruptcy Code, debtors must declare the as-is cash value of all their assets. A home is a good example. Most home investors initially offer less than 50 percent of the home's fair market value. So, if Hector Homeowner has a $200,000 house, its as-is cash value might only be $100,000. Proper valuation maximizes legal exemptions.
Contact Experienced Lawyers
Grey bankruptcies involve special issues. For a free consultation with an experienced bankruptcy attorney in Chicago, contact the Bentz Holguin Law Firm, LLC. Convenient payment plans are available.
Resource:
nytimes.com/2018/08/05/business/bankruptcy-older-americans.html