How Long Does It Take To Build Your Credit Back Up After Filing Bankruptcy?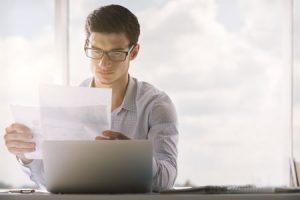 Filing bankruptcy lowers your credit score. There's no way to sugarcoat that fact. However, the initial impact usually isn't that bad, mostly because people who file bankruptcy already have very poor credit. In terms of the effect on a credit score, repeated charge-offs, late payments, and lien placements are worse than filing bankruptcy. Therefore, most people can build their credit scores back up after filing bankruptcy in less than eighteen months.
A Chicago bankruptcy lawyer is an important partner in the post-filing recovery process. Unlike non-layer bankruptcy petition preparers, lawyers do a lot more than help debtors file paperwork. Attorneys stand up for debtors in court if, as is usually the case, things start going sideways. More importantly for purposes of this blog, lawyers give debtors the tools they need to build their credit back up after bankruptcy.
Remain Current on Bills
One of the best ways to rebuild your credit score is also one of the easiest ways. The ability to pay bills on time is one of the most important factors in a credit score. That's especially true of secured debts, like house and car payments, which are reported directly to credit agencies. Current payments also prevent other bills, like doctor bills, from going to a debt-buyer. That referral is usually the kiss of death for a credit score.
Making thirteen payments a year is usually a good idea. Most families do not miss the extra $50 or so per month. Be sure you designate the extra payment as additional principal payment. Otherwise, the bank will apply it to interest, and you lose the primary benefit.
This benefit is a financial reserve which protects you from the financial storms of life. Reserves build goodwill with creditors. So, if you have a financial need, the creditor is more likely to defer a payment or two until the end of the loan. Alternatively, a reserve could allow you to unilaterally skip a payment, or maybe even two, if things get rough.
Borrow Money
Paying cash for everything doesn't improve your credit score. Responsibly using credit rebuilds your score after bankruptcy.
Most former debtors receive a ton of credit card offers. Since a discharge waiting period applies, there's little chance the debt will quickly file bankruptcy again. Take advantage of this chance to find a car with a low spending limit. Next, charge something every month and pay the balance in full every month.
Big ticket items, like cars and houses, are excellent opportunities as well. A Chicago bankruptcy lawyer can connect former debtors with creditors who work with damaged credit individuals.
Remember What You Have Learned
Most people file bankruptcy because one of the aforementioned financial storms of life, like unemployment or divorce, hits them when they are unprepared. Bankruptcy reinforces the need for financial discipline. That's especially true for Chapter 13 debtors, since these individuals make monthly debt consolidation payments.
In fact, many former Chapter 13 debtors keep making debt consolidation payments for a few months. But, instead of paying their creditors, they pay themselves. Very shortly, these families have a savings account that allows them to withstand even hurricane-force financial storms.
 Count on a Thorough Cook County Lawyer
No matter what kind of financial problem you are having, bankruptcy could be a way out. For a free consultation with an experienced bankruptcy attorney in Chicago, contact the Bentz Holguin Law Firm, LLC. Virtual, home, and after-hours visits are available.
Source:
experian.com/blogs/ask-experian/discharged-bankruptcy-will-still-affect-scores/