Student Loan Repayment and Your Bank Account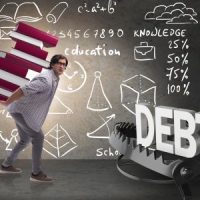 When the three-year student loan repayment pause ends in October 2023, American consumers stand to lose over $8 billion per month.
The payment restart will reduce consumer spending by 0.8 percent in the first quarter of 2024 and by 3 percent in the second quarter, reversing from the estimated growth of 3 percent and 1.2 percent in the third and fourth quarters, respectively, in 2023.
"Strong income growth has been largely responsible for the recent strength in consumer spending. However, wage income – the dominant driver of household income dynamics – looks set to slow as employment and wage growth weaken," said Olu Sonola, head of U.S. regional economics at Fitch. "Debt service is expected to trend higher in the coming quarters as student loan payments resume and higher financing costs take hold for much longer."
The resumption of student loan payments also comes at a time when 80 percent of excess savings accumulated during the pandemic have been expended, while other forms of debt are piling up, he added.
Discharge in a Chapter 7
Before we get to current law, let's look at how we got here. Way back in the day, prior to 1980, student loans were dischargeable in bankruptcy, just like medical bills and credit cards. When Congress revised the Bankruptcy Code in 1977, it added an "undue hardship" clause to the discharge provision.
At first, courts defined "undue hardship" very narrowly. Usually, only disabled borrowers were eligible for discharge. As the student loan crisis escalated in the 1990s and early 2000s, the government lowered the standard. Now, most courts basically use a totality of the circumstances analysis. Generally, to determine if a borrower is eligible for student loan discharge, the judge considers:
Circumstances of the loan (e.g. did a naive 18-year-old borrow more money than s/he could possibly repay),
Borrower's current economic circumstances,
Monthly payment amount,
Borrower's likely future economic circumstances, and
Any alternatives, like payment deferral, available to the borrower.
Usually, if continued repayment would rob the debtor of a fresh start, which is guaranteed by the Bankruptcy Code, the judge will discharge the student loan.
The law change isn't all good news. Judges now have limited ability to partially discharge loans. Now, student loan discharge in a Chapter 7 is usually an all-or-nothing proposition. So, a Chicago bankruptcy lawyer must thoroughly prepare a motion for student loan discharge.
Even if the student loan isn't dischargeable, the Automatic Stay still applies. Section 362 of the Bankruptcy Code prohibits wage garnishment and most other creditor adverse actions.
Repayment in a Chapter 13
Many people aren't prepared for the payment restart. As a result, they may quickly fall behind on payments. If they fall three or four months behind, most people cannot catch up. The "repayment plans" student loan companies offer usually involve huge upfront payments.
Chapter 13, on the other hand, offers an income-based repayment plan that lasts up to five years. During this time, the Automatic Stay usually remains in place. Student loan providers and other creditors cannot pressure debtors into paying more money or otherwise harass them.
Chapter 13 has other benefits as well. For example, Chapter 13 falls off credit reports sooner than Chapter 7. Additionally, debtors can roll almost all allowed claims, such as mortgage arrearage, into the repayment plan.
Furthermore, almost everyone qualifies for Chapter 13. Debtors must complete two brief financial management courses, which are usually available online. Debt ceilings apply as well, but these ceilings are so high that they very rarely come into play.
 Rely on a Thorough Cook County Lawyer
No matter what kind of financial problem you are having, there's a way out. For a free consultation with an experienced bankruptcy attorney in Chicago, contact the Bentz Holguin Law Firm, LLC. The sooner you reach out to us, the sooner we start working for you.
Source:
businessinsider.com/student-loan-payments-debt-service-cost-consumer-spending-economic-outlook-2023-9