Student Loan Cancellation Back In Court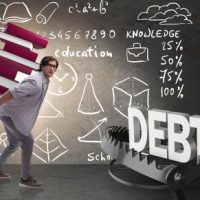 One of the nation's largest student loan companies filed suit against the Biden Administration, asking the court to cancel an extended payment pause.
The payment pause, which began in March 2020, also suspends billing and freezes interest rates on all student loans. The pause, which is currently scheduled to end in summer 2023, could be extended yet again. In the court filing, SoFi argues that Biden's current extension is unlawful because rather than being tied to the pandemic emergency, the administration extended the student loan pause in response to the Supreme Court battle over the administration's separate student loan forgiveness initiative. The bank also argued that the pause has reduced its earnings and profits.
According to a November 2022 survey, 50 percent of student loan debtors would be unable to make their payments if the pause ended within the next six months.
Student Loan Forgiveness and Chapter 7 Bankruptcy
While bankers and politicians treat student loans like a political football, a Chicago bankruptcy lawyer can give distressed borrowers immediate relief. In many cases, this relief could be the partial or total cancellation of student loans.
Recently, an under-the-radar change to the Bankruptcy Code's undue hardship provision opened the door to student loan relief for millions of borrowers.
Before the 1970s, student loans were generally dischargeable in bankruptcy, just like any other unsecured debt. Then, Congress added an "undue hardship" provision, which made these debts priority unsecured obligations that are only dischargeable in certain circumstances.
As politicians are prone to do, they intentionally didn't say anything about the circumstances or define "undue hardship." Instead, to continue with the football analogy, Congress punted the ball to the courts.
Courts defined "undue hardship" in various ways. For example, federal courts in Illinois basically ruled that student loans are only dischargeable if the debtor has a severe physical, mental, emotional, or other disability.
Other courts used a much broader totality-of-the-circumstances analysis to determine if a borrower had an undue hardship. The primary factors in this test are:
The debtor's past, present, and reasonably reliable future financial resources,
The debtor's reasonable and necessary living expenses, and
Any other relevant facts and circumstances.
Under new guidance from the Biden Administration, all bankruptcy judges must now use a similar approach to determine if student loans are dischargeable in a Chapter 7.
This form of bankruptcy eliminates most unsecured debts, like credit cards and medical bills, in only a few months. These debtors normally get to keep most or all of their possessions.
Student Loan Extended Repayment and Chapter 13 Bankruptcy
Whether or not the aforementioned lawsuit succeeds, the student loan payment pause probably won't last much longer.
Chapter 13, on the other hand, gives debtors up to five years to catch up on past-due payments on student loans, home mortgage payments, and other allowed claims. During this protected repayment period, student loan companies and other creditors cannot take adverse actions against debtors. In fact, Section 362 of the Bankruptcy Code prevents creditors from even contacting debtors, at least in most cases.
Monthly repayments are income-based. During a meeting with the bankruptcy trustee (person who oversees the case for the judge), a Chicago bankruptcy lawyer uses information from Schedules I and J, the monthly income/expense schedules, to set this payment amount.
As long as the amount meets minimum legal requirements, the trustee almost always approves the plan, which means the judge almost always approves the repayment plan, usually without holding a hearing.
Chapter 13 bankruptcy also gives an attorney a chance to renegotiate payment terms. Legally, bankruptcy cancels all existing loan agreements. These agreements must be renegotiated from scratch. Common changes include a lower interest rate, partial UPB (unpaid principal balance) forgiveness, and late payment forgiveness or deferral.
 Reach Out to a Diligent Cook County Lawyer
No matter what kind of financial problem you are having, a solution is usually available. For a free consultation with an experienced bankruptcy attorney in Chicago, contact the Bentz Holguin Law Firm, LLC. We routinely handle matters throughout the Prairie State.
Source:
bloomberglaw.com/public/desktop/document/SOFIBANKNAetalvCARDONAetalDocketNo123cv00599DDCMar032023CourtDock/1?doc_id=X1Q6OIRRP582