Loan Modification Scams – Be On The Lookout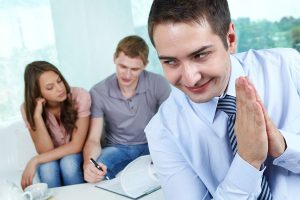 Homeowners facing a major financial hardship that could lead to a foreclosure may qualify for a loan modification that changes the terms of the mortgage so that the borrower may afford the payments. A lender may allow a homeowner to refinance the loan, pay a lower interest rate, extend the term of the loan, skip payments and add them to the total loan amount, or roll past-due payments into the total loan amount. To obtain a loan modification, you should work directly with the lender or alongside an experienced Chicago foreclosure lawyer. Criminal con artists are everywhere offering to help homeowners qualify for and obtain loan modifications. Don't be a victim. Here's are four ways to avoid loan modification scams:
– Be skeptical: Scammers try to present themselves as legitimate. Be extremely cautious, even when a solicitation or correspondence looks official. Some of the criminals present themselves as affiliated or associated with the government, and they aren't.
– Ignore promises of easy solutions: Crooks promise to make foreclosure issues go away quickly. Don't believe them for a minute. Foreclosure is always a difficult and lengthy procedure.
– Don't pay scammers a cent: Typically, these criminals will charge you fees while promising help that will supposedly save your home. Instead, the crooks take the money and disappear.
– Don't transfer the deed: This is critical, and you can lose your home if you're not careful. Con artists sometimes promise to buy your home and "agree" to let you rent it with an option to buy it back later. Do not fall for this. In some cases, the crook sells the home to someone else. In other cases, the scammer takes the title, any equity in the home, and your fees before disappearing and leaving the home to default.
If you are facing foreclosure or expect to receive a foreclosure notice soon, you need help that you can trust. Instead of dealing with someone that you aren't sure about, make the call to a trustworthy and experienced Chicago foreclosure lawyer as quickly as possible.