Bankruptcy Filing Rates Soar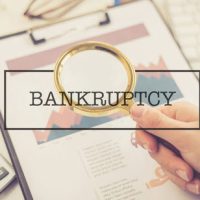 High interest rates and inflation are starting to take their toll, as Chapter 13 bankruptcy filings increased 23 percent in the first half of 2023.
"The growth in filings is reflective of more families and businesses facing surging debt loads due to rising interest rates, inflation, and increased borrowing costs," American Bankruptcy Institute's executive director Amy Quackenboss said in a statement.
On the business bankruptcy side, SVB Financial Group, Envision Healthcare Corp, Bed Bath & Beyond, Party City Holdco, Lordstown Motors and Kidde-Fenwal were among some high-profile casualties of decades-high interest rates and sticky inflation.
Filing Bankruptcy
Especially in a bad economy, money is usually tight when people file bankruptcy. Thus, it's very tempting to work with a nonlawyer bankruptcy petition preparer or even file a do-it-yourself bankruptcy. Quite frankly, these approaches are penny wise and pound foolish. Debtors who don't partner with a Chicago bankruptcy lawyer save a little money in the beginning. But they lose money later. They have no one to give them legal advice and no one to stand up for them if things go sideways.
Even a simple unintentional filing mistake, like filing the paperwork in the wrong order, could rob debtors of key bankruptcy protections, such as:
Automatic Stay: Section 362 of the Bankruptcy Code prohibits repossession, wage garnishment, foreclosure, and most other creditor adverse actions. An improperly-filed bankruptcy could result in little or no protection in this area.
Asset Protection: Illinois law contains very broad bankruptcy property exemptions. These exemptions apply to most core assets, such as houses, motor vehicles, government benefits, and retirement accounts. A Chicago bankruptcy lawyer, and only an experienced lawyer, uses loopholes and back doors to extend these broad exemptions even further.
Debt Discharge: At the end of a consumer bankruptcy, the judge discharges (wipes out) credit card bills, medical bills, and most other unsecured debts. "Discharge" means the judge wipes away the legal obligation to repay that debt. Attorneys also address the collateral consequences of debt, like a school withholding a transcript because of unpaid tuition.
Chapter 7 quickly discharges unsecured debts, often in as little as six months. Chapter 13 gives debtors up to five years to make catch-up payments on past-due mortgage loans and other secured obligations.
Recovering from Bankruptcy
Without a Chicago bankruptcy lawyer, it's much harder to take advantage of everything bankruptcy has to offer. Likewise, debtors without lawyers often never fully recover from a bankruptcy filing. This recovery is an emotional and financial process.
Many people believe that filing bankruptcy and failing in life are the same thing, probably because a Monopoly bankruptcy means losing the game. Fortunately, the real world is much different from a board game. Instead of the end, bankruptcy is a fresh start. Although it's up to a debtor to maximize that fresh start, an attorney helps.
Our team helps debtors responsibly use credit. This approach quickly raises their credit scores in the months after bankruptcy.
Incidentally, "bankruptcy ruins your credit" is another dangerous myth. Due to repeated late payments, charge-offs, and other negative information, when they file bankruptcy, most people already have low credit scores. A bankruptcy filing simply makes a bad credit score a little worse.
Attorneys often renegotiate the terms of home loans and other secured debts and lower the debtor's monthly payment. That makes it easier to remain current on these loans. Additionally, lawyers have professional relationships with lenders who worked with damaged credit borrowers. A small credit card and property purchase, like a furniture purchase, along with regular on-time payments, does wonders for a credit score.
 Count on a Hard-Hitting Cook County Lawyer
No matter what kind of financial problem you are having, there's usually a way out. For a free consultation with an experienced bankruptcy attorney in Chicago, contact the Bentz Holguin Law Firm, LLC. Convenient payment plans are available.
Source:
reuters.com/legal/bankruptcy-filings-surge-first-half-2023-us-epiq-2023-07-03/