Attention Mesothelioma Sufferers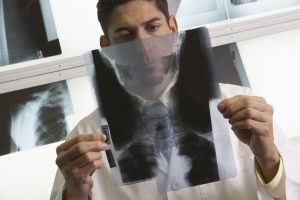 When you are struggling with mesothelioma, finding a qualified personal injury lawyer to advocate on your behalf can be genuinely difficult. Every mesothelioma case is different, so it is vital for those seeking legal help to find an lawyer with experience – and success – representing mesothelioma patients. If you file a personal injury lawsuit concerning your mesothelioma and you prevail, you'll be awarded compensation to cover your medical treatments and other related expenses. It's imperative, however, to be represented by an experienced Chicago personal injury lawyer.
Mesothelioma is a cancer that develops in the protective lining that covers the internal organs – the mesothelium. Asbestos exposure is the cancer's most common cause, and most victims who struggle with mesothelioma inhaled asbestos fibers or asbestos dust at their jobs. In fact, asbestos is still legal in the United States for the production of certain industrial compounds. If you've been exposed to asbestos or diagnosed with mesothelioma, arrange at once to consult with an experienced Chicago personal injury lawyer. You are entitled to compensation for your medical expenses and more, but that compensation doesn't just arrive automatically. You'll need to fight for it, and you'll need a personal injury lawyer's help.
The Occupational Safety and Health Act of 1970 compels employers to protect workers from the hazards of asbestos. However, that law hasn't been amended in 45 years. Even a violation by an employer that leads directly to a worker's death is only a misdemeanor punishable by a maximum sentence of six months in jail. That's clearly not enough. If you are a mesothelioma patient, let an experienced Chicago personal injury lawyer advocate on your behalf for the maximum possible compensation available. Help is available for the victims of mesothelioma and their families; if you're in or near Chicago, arrange as quickly as possible to speak about your case with an experienced Chicago personal injury lawyer.